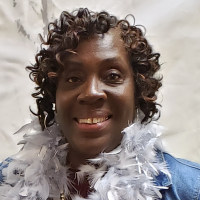 Vera Harris
Children's
Profession

Children's Book Author
I love to travel, read and work in my church. I am a children's book Author and I write books that entertain and encourages reading for children up to age twelve.
Vera Harris, called "Sister" by her family, enjoys spending time with her family, traveling,
reading, listening to various types of music, and working in her church. After retiring from
the U. S. Army, which included eighteen months in Iraq, Vera now lives in East Texas and was inspired by her grandson to write her first children's book. Her fourth children's book, "Monica and Michelle Travel the World" was released April 2018 and her first fiction eBook, "What Jury Duty!" was also recently released in March 2018. Vera's goal is to continue to write and publish books that not only entertain but teaches valuable life's lessons. Her books can be purchased on Amazon.com and Barnes &Noble or wherever books are sold.

Veteran Owned Business
Website: http://veraharris.vpweb.com
Face book Page: happyreadingbyvera.com
IG: @vharris5413
Twitter: Vera Harris Children's Book Author@vharris5413
Email: vharris5413@gmail.com
Women-Owned Business Club Member
Happy Reading!
Today a reader, tomorrow a leader.
Margaret Fuller